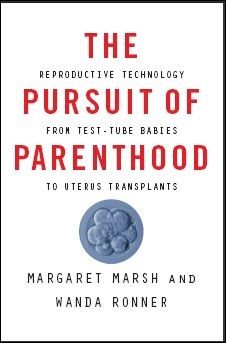 Since the 1978 birth of the first IVF baby Louise Brown, in England, more than eight million children have been born with the help of assisted reproductive technologies. From the start, such technologies have stirred controversy and raised profound questions: Should there be limits to the lengths to which people can go to make their idea of family a reality? Who should pay for treatment? How can we ensure the ethical use of these technologies? And what can be done to address the racial and economic disparities in access to care that enable some to have children while others go without?
In The Pursuit of Parenthood, we seek to answer these challenging questions. Bringing our combined expertise in gender history and women's health to the subject, we examine the unprecedented means—liberating for some and deeply unsettling for others—by which families can now be created through assisted reproduction.  Beginning with the early efforts to create embryos outside a woman's body and ending with such new developments as mitochondrial replacement techniques and uterus transplants, we assess the impact of contemporary reproductive technology in the United States.
In the book, readers will meet the scientists and physicians who have developed these technologies and the women and men who have used them. Along the way, the book dispels a number of fertility myths, offers policy recommendations that are intended to bring clarity and judgment to this complicated medical history, and reveals why the United States is still known as the "Wild West" of reproductive medicine.