Marie Cornelia's sudden passing last Saturday has left her family, friends and colleagues reeling, not only here at Rutgers-Camden but around the world. Marie was one of the most "alive" people anyone would ever meet. It is still almost impossible to believe that I won't be seeing her at one of the weekly concerts at Rutgers, running into her at a performance of the Pennsylvania Ballet, meeting her for lunch or dinner, or hearing about her and her devoted husband Jim taking another trip to a far-flung destination.
          I came to know Marie in 1998 when I accepted the position of Dean of the Faculty of Arts and Sciences and the Graduate School at Rutgers—Camden. Everyone said to me, "Marie Cornelia would be your best choice to lead the Graduate School, but I doubt if she could ever be enticed back into administration." Luckily for me and for Rutgers, she decided she was indeed entice-able.  She soon became Associate Dean not just for the Graduate School but for University College as well. She held both jobs until Christopher Dougherty arrived at Rutgers to lead University College. She then was able to devote her full attention to the Graduate School as the campus began the transition from a Master's to a Ph.D. granting institution.
Marie was such a successful administrator because as a trusted long-time faculty leader, she had the respect of her colleagues, and as a brilliant teacher, she understood students. She also knew how to create effective programs and to develop curricula. During her time as associate dean, Marie initiated our first off-campus degree granting programs in University College at Brookdale Community College, inaugurating a process of off-campus education that continues to this day. In the Graduate School,  she was instrumental to its dramatic growth as we added an astonishing dozen new degree programs and areas of concentration. A major part of the expansion of graduate education in these years was the development of the first three Ph.D. programs to be offered at Rutgers—Camden. Her leadership was pivotal to the success of these efforts.
Marie was legendary both for her ability to work with faculty across all disciplines and for her programmatic and curricular expertise. She was able to forge agreements, leap over obstacles, and cut through red tape in ways that we all found remarkable. Not only could she do all this, but she was an extraordinary teacher, too, winning pretty much every teaching award on the campus. In 2005, her former student JoAnn Mower endowed a teaching award in her honor and in honor of two other faculty members. Marie also had a gift for friendship and a deep and abiding love for her husband Jim Shew and her children and grandchildren – not to mention that she had an absolutely enviable zest for life. After she retired, she continued to teach, volunteer, and travel. She is shown in the photo below at second from the right, with Chancellor Pritchett, Mayor Redd, and me on the occasion of her campus commencement address in 2010. She never slowed down, not until last Saturday.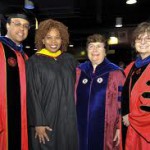 Marie, we will miss you, and you will always live on in our hearts and memories.